Introducing the Safer Crew Change Facility

01/04/2020 | Dubai
The recent COVID-19 pandemic is hitting the offshore industry severely. Operators are concerned about the health and safety of their crew and a plethora of travel restrictions have been implemented around the globe which are forcing operators to reduce offshore activities.
In response to client requests, Telford Offshore, in consultancy with International SOS (ISOS), has developed a plan for using its multi-purpose offshore accommodation vessels as an offshore isolation facility. Offshore personnel, before starting their offshore period, will have to complete a 7, 14, or 21 day stay in isolation onboard of the Offshore Isolation Facility. This Isolation period is not to be considered as a certificate of good health, but it significantly reduces the risk of COVID-19 spreading to the confined offshore environment and it allows operators to continue essential offshore operations in a more manageable and safer way.
Offshore Isolation Facilities have significant advantages compared to designated onshore hotels or other onshore isolation facilities. The main benefits that the fully isolated offshore Isolation solution from Telford Offshore provide are efficiency, flexibility and safety.  Depending on local government requirements, client preferences and field lay-out the offshore isolation facilities can be used in multiple ways. The vessels can for example be used as a fixed offshore isolation hub, in which case the vessel can stay in port, at safe anchorage or at a permanent tactical position offshore but alternatively the units can also be used as an offshore isolation vessel which shuttles between offshore facilities to bring crew to their work sites once they've completed the isolation period.
Main advantages of Telford Offshore's offshore isolation solution:
Full ISOS support – renowned health services provider in the offshore industry.
Hospital facilities onboard manned with ISOS Doctors who can consult with additional medical experts based in ISOS global assistance centres 24 hours a day.  In this way they can arrange second medical opinion, medical evacuations (if necessary) and provide wider expertise to deal effectively with all manner of emergencies.
Offshore crew will stay in a fully isolated facility before starting their offshore period – reduces the risk of COVID-19 spreading to the confined offshore environment
Once the isolation period has been completed, no further (onshore) transportation required – less exposure
Efficiency and Flexibility – multiple possible ways to use the Offshore Isolation Facility e.g. in port, moored at safe anchorage, fixed position, shuttling in the field between offshore facilities, etc.
Multiple transportation means for crew. The vessels are equipped with helicopter deck, man-riding crane(s), heave compensated gangway, and boat landing providing full flexibility.
Fully separated accommodations onboard (some vessels only) with own dedicated messroom, kitchens, recreation rooms etc. allowing for even higher level of isolation – permitting for more frequent crew changes.
Telford Offshore, in conjunction with ISOS, is keen to develop a tailored offshore isolation plan for your specific requirements. Inquiries can be sent to isolation@telfordoffshore.com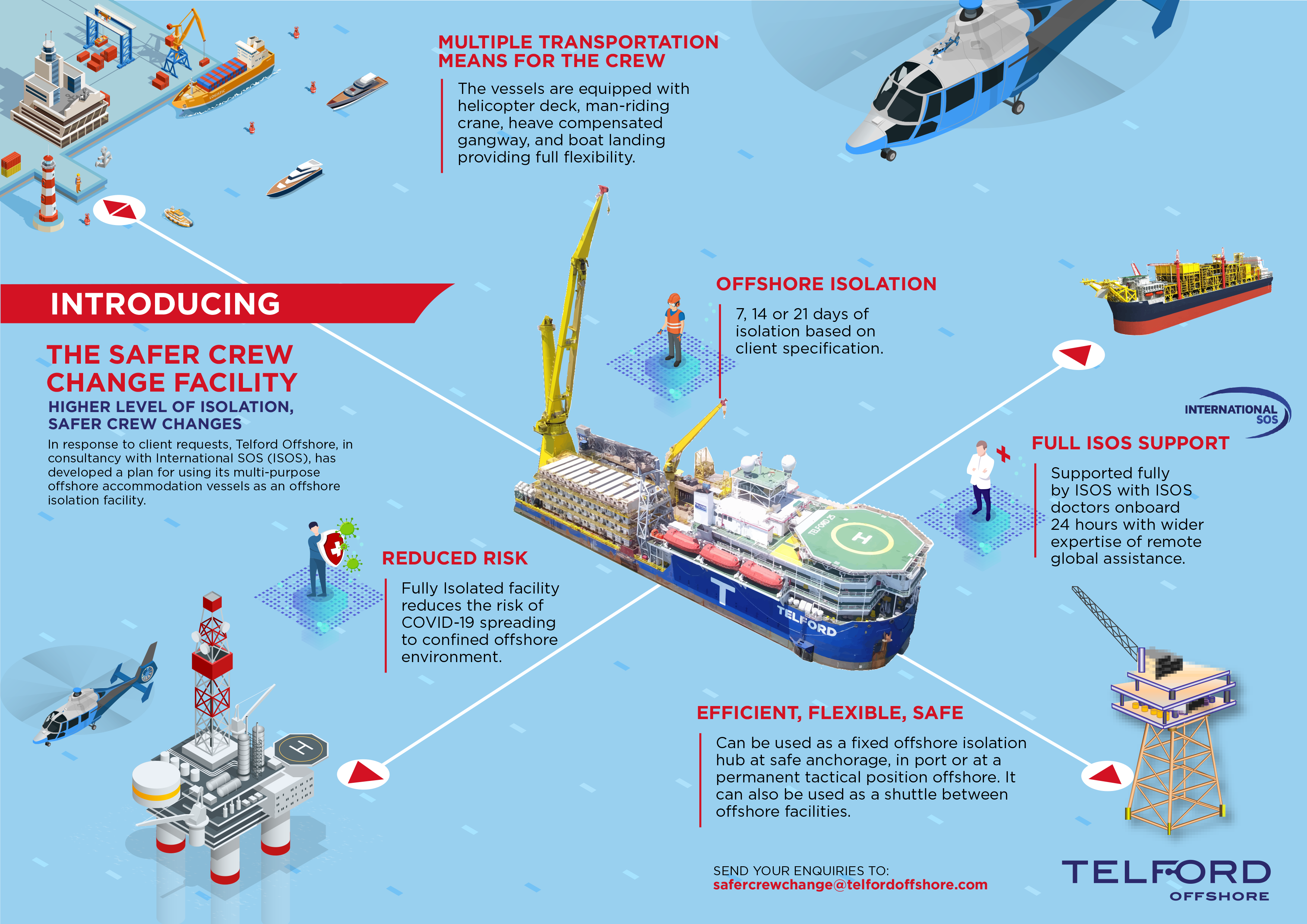 > Download PDF